Luxury Redefined - The ultimate luxury billiard table
Thailand Pool Tables is proud to introduce the ultimate statement in design and gaming experience 'The Blacklight Pool Table'. This revolutionary table breaks away from tradition delivering a unique curved steel resin design with a ribbon effect silhouette. The playing surface is a one-piece 22mm of quality slate ensuring perfect flatness for the perfect game.
Availability: 4 - 6 Months
Details
Details
Truly individual styling is possible for the discerning client with a choice of 27 different lacquered or matt finishes. Luxury gold, chrome, brushed stainless steel, copper, pearly white or leather finishing is also available. The cloth is also available to customise in a choice of 27 shades and with unique logos or designs
Included Accessories:
Four BlackLight Cues
2 1/4" Aramith Spots and Stripes Pool Balls supplied with the American Pool Version
Triangle
Chalk
100% customizable
Billiard table colour at choice (lacquered or matt finishing). Luxury gold, copper or pearly white finishing available on option. You can choose your billiard table's finishing. Cloth colour at choice: more than 27 colours! Various options possible and unlimited: two colours, internal LED lighting, Atao internal high definition audio with bluetooth connection, cloth customization, billiard table customization…
100% quality
Billiard table made of none deformable steel with an iron body frame. 22mm one-piece ground slate which ensures a perfect flatness lifetime warranty. Simonis cloth and Kléber Michelin competition cushions. 65mm jacks for an incomparable adjustment. Soundproof ball return. American opened pockets leather finishing.
100% adjustable
The BlackLight can easily be turned into a dining table adding a overhung wooden (various finishing possible). The table top can also be turned into a poker board adding a customized cloth on the back. For more practicality, we offer you the table top holder and the standing cues rack in your billiard table's finishing.
Size:
This table is available in 8ft size only.
| | |
| --- | --- |
| Dimensions | 8ft |
| Width: | 135cm |
| Length: | 265cm |
| Weight: | 500kg |
| Height: | 80cm |
| Playfield Size: | 210cm x 105cm |
| Slate Thickness: | 22mm (1 Piece) |
Included Options:
Cage Colour: Choice of 3 colours (Black, Grey or White) other colours are available at extra cost
Ball Return Rail: Any Colour of your Choice
Table Options (Extra options - not included with the table)
Leather finishing to the pockets in a choice of colours: Brown, Black, Burgundy, White or Cream
Basin Lighting - the webbed basin that forms the underneath of the table can be fitted with lights - either single colour or multicoloured - adding a new dimension to the style of the table and creating a cool ambience in your games room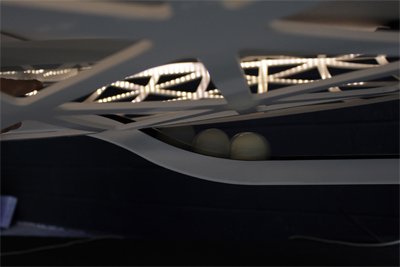 A never seen option for such a billiard table ! An irreproachable sound system : ATAO speakers, with no vibration and a perfect game's comfort.

Listen to you favorite playlist via Bluetooth connection with no plugs needed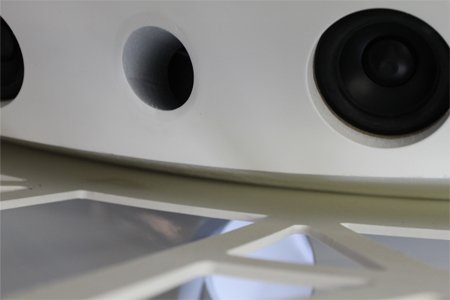 Professional accessory kit featuring 4 cues, American pool balls, triangle, brush, chalks, game rules - upgrade to a full deluxe accessory kit for the ultimate playing experience
3 piece colour matching table top can be supplied - place the top on your Blacklight table and you have a stylish and modern table or desk top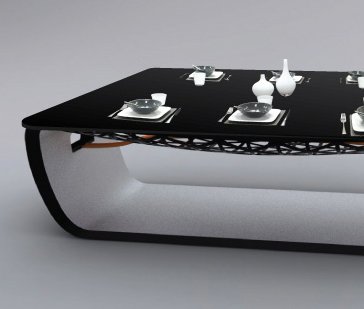 Optional table top holder can be added for safely storing your table top when not in use - these safety stands can be placed to the side of the room and will hold your tops safely out of the way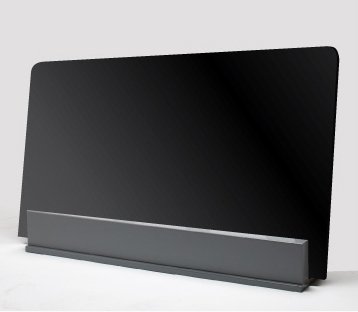 Optional professional poker table top - maximise the potential of your table with this professionally marked hard table top that can be placed onto the Blacklight for additional fun in the games room!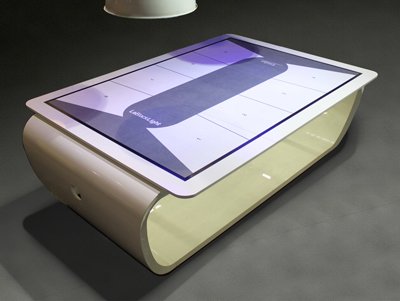 Matching Blacklight table light canopy - from the same designers who created the Blacklight table, this stunning pendant light will compliment the room perfectly with a web design that matches the basin of the table. Light Dimensions are : 160cm x 80cm x 25cm and weights about 15kgs. Made from resin, plexiglas & LED.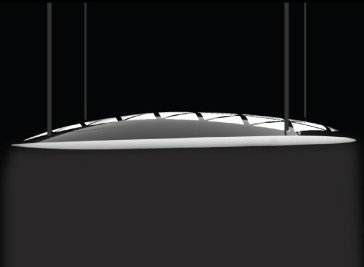 An optional deluxe colour matching cue rack is available - specially designed to the same theme as the Blacklight this deluxe stand will keep your cues stored in style - includes hook for triangle.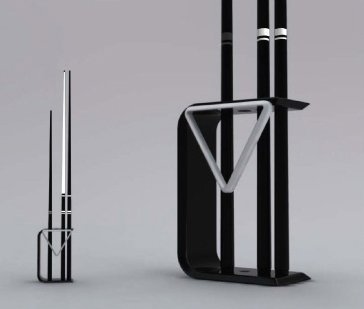 Table Specification
The Blacklight is available as an 8ft American style table - this refers to the internal dimensions of the play area
Cabinet finishes:
The Blacklight is available in an astonishing range of colours, all of which are available at no additional cost. Please choose from:
It is even possible to specifiy car paint colours or any of the RAL colours. We work with many interior designers who require precise colour matching, or something a little out of the ordinary so we are used to catering for the most exacting of requirements.
Refer to this website to select the colour code of your choice: ralcolor.com
Luxury colour options are also available. Choose from the options below, or if you would like another colour, please contact us on +66 (0)857 821 200 to discuss further choices and options. Please note that chrome is no longer available unfortunately.
It is possible for you to specify the colour for the inside of the table also, for example the table we have on display in our showroom is in Maserati Grey exterior, with gloss black Duotone interior. Again you can select any of the colours shown above in the samples, or RAL colour or virtually any car paint colour.
Fitted with hardwearing commercial quality 100% Simonis nylon american speed cloth in a choice of colours: Black, Chocolate, Fuschia, Green, Grey, Midnight Blue, Orange, Red, Taupe & White and many more. A total choice of more than 28 different cloth colours.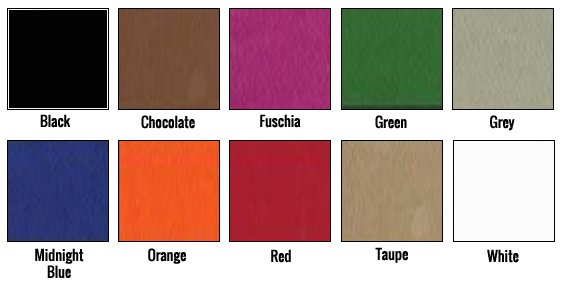 Other cloth colours are available - please contact Thailand Pool Tables to check the availability and price of your preferred choice
More Information
Built To Order
The Blacklight table is built to order depending on your choice of table and cloth colour - this is a process that can result in a delivery time of up to 10-12 weeks so if you need your table for an event please order with plenty of time
Delivery and installation
The Blacklight is delivered and installed by our dedicated fitting team who have years of experience - please note that this is to a ground floor location as standard.
If you have any further delivery requirements please contact Thailand Pool Tables before placing your order.
** please note that the Blacklight Table uses a slightly smaller cue ball to allow a cue ball seperation to opposit sides of the table. Using a cue ball in the same size as the object balls will result in the white ball exiting on the object ball side of the table
Additional Info
Additional Info
| | |
| --- | --- |
| Brand | Toulet |
| Ordering Lead Time | 4 - 6 Months |
| Game Type | American Pool |
| Size | 8ft. |
| System | Free Play |
| Color | Choice of different colour |
| Table Dimension | W 135 x L 265 x H 80 cm |
| Playing Dimension | W 105 x L 210 cm |
| Weight | 500kg |
Reviews
Customers who bought this product also purchased
You have no items to bought.