Pre-Order Call for lead time
In this monster-packed pinball adventure, players wreak havoc as they become the legendary Godzilla ! This new release features an innovative "Magna Grab" magnetic newton ball, capable of catching pinballs from five different shot paths, including off the plunge. Godzilla pinball machines also debut Stern's Insider Connected system, which includes a QR code reader on the bottom arch that enables players to interact with the game and this new network in a variety of ways. 
Only 1,000 LE machines will be available. The LE version includes an exclusive full color mirrored backglass inspired by Mechagodzilla, iconic custom cabinet artwork, custom high gloss metallic silver powder-coated pinball armor, a custom designer autographed bottom arch, exclusive inside art blades, upgraded audio system, anti-reflection pinball playfield glass, shaker motor, a sequentially numbered plaque, and a Certificate of Authenticity.
GAME FEATURES :
Production limited to 1,000 machinesa
Certificate of Authenticity signed by Gary Stern
Individually Autographed by designer Keith Elwin
Sequentially numbered plate
Limited Edition Mechagodzilla inspired mirrored backglass with stunning and distinctive high definition hand-drawn artwork by
Zombie Yeti
Shaker motor installed
Anti-reflection playfield glass
Custom high gloss Mechagodzilla inspired powder-coated and clear-coated armor, legs, hinges and front molding
Limited Edition exclusive full color high definition reflective foil decal cabinet hand-drawn artwork by Zombie Yeti
Upgraded speaker system with 3-channel amplifier
Industry first "Magna Grab" Godzilla magnetic newton ball, capable of catching pinballs from five different shot paths and setting up shots
to upper left flipper
Original theme song from the 1954 movie "Godzilla"
King of the Monsters! Wizard Mode
3 flippers
3 spinning targets (Heat Ray, Mechagodzilla and Monster Rampage)
3 powerline stand-up targets
6 Main Multiballs: Godzilla, Mechagodzilla, Bridge Attack, Tank Attack, Saucer Attack Wave Multiball and Godzilla vs. Meglon & Gigan
Battle ranging from 2 to 6 balls
Immersive video and audio from 10* Toho Showa Era Godzilla films
UFO pop bumper
Cityscape right ramp with stainless steel entrance
Subway left halfpipe wireform ramp with stainless steel entrance
ADDITIONAL FEATURES
6 pinballs
Stereo sound system with 3-channel amplifier
10-band Graphic Equalizer with separate control for backbox and cabinet speakers
CPU mounted line-out audio connector for external amplification
Fade adjustment to control front and bottom speaker outputs
DIMENSIONS: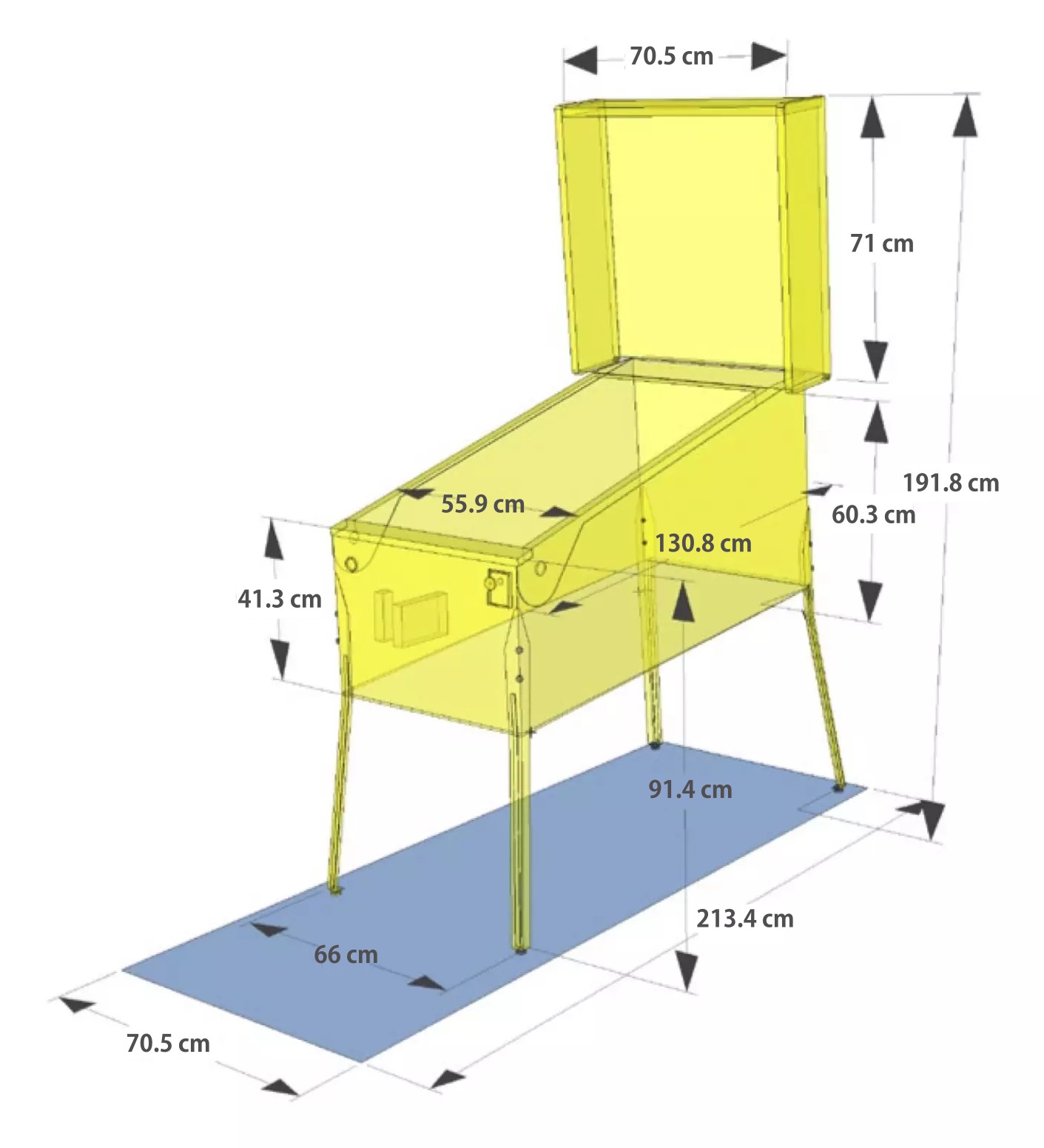 More Information

| | |
| --- | --- |
| Theme | Godzilla |
| System | Free Play |
| Power Supply | 90-250V ~ 50/60Hz |
| Leg Levellers | Yes |
| Min. Dimensions | H 198 x W 70.5 x D 145 cm |
| Max. Dimensions | H 193 x W 70.5 x D 145 cm |
| Min. Room Dimensions | H 203 x W 91 cm x D 214 cm |
| Weight | 96 kg |
| Packing Dimensions | H 144 x W 79 x D 79 cm |
| Packing Weight | 105 kg |
Warranty
Stern Pinball Inc ('SELLER') warrants only to the initial purchaser of its products that the items listed below are free from defects in material and workmanship under normal use and service for the warranty period specified:
Printed circuit boards (game logic): 2 months
Dot Matrix / LCD Display: 9 months
Visit this page for more information on Stern Pinball Warranty
GAME FEATURES :
Production limited to 1,000 machinesa
Certificate of Authenticity signed by Gary Stern
Individually Autographed by designer Keith Elwin
Sequentially numbered plate
Limited Edition Mechagodzilla inspired mirrored backglass with stunning and distinctive high definition hand-drawn artwork by
Zombie Yeti
Shaker motor installed
Anti-reflection playfield glass
Custom high gloss Mechagodzilla inspired powder-coated and clear-coated armor, legs, hinges and front molding
Limited Edition exclusive full color high definition reflective foil decal cabinet hand-drawn artwork by Zombie Yeti
Upgraded speaker system with 3-channel amplifier
Industry first "Magna Grab" Godzilla magnetic newton ball, capable of catching pinballs from five different shot paths and setting up shots
to upper left flipper
Original theme song from the 1954 movie "Godzilla"
King of the Monsters! Wizard Mode
3 flippers
3 spinning targets (Heat Ray, Mechagodzilla and Monster Rampage)
3 powerline stand-up targets
6 Main Multiballs: Godzilla, Mechagodzilla, Bridge Attack, Tank Attack, Saucer Attack Wave Multiball and Godzilla vs. Meglon & Gigan
Battle ranging from 2 to 6 balls
Immersive video and audio from 10* Toho Showa Era Godzilla films
UFO pop bumper
Cityscape right ramp with stainless steel entrance
Subway left halfpipe wireform ramp with stainless steel entrance
ADDITIONAL FEATURES
6 pinballs
Stereo sound system with 3-channel amplifier
10-band Graphic Equalizer with separate control for backbox and cabinet speakers
CPU mounted line-out audio connector for external amplification
Fade adjustment to control front and bottom speaker outputs
DIMENSIONS: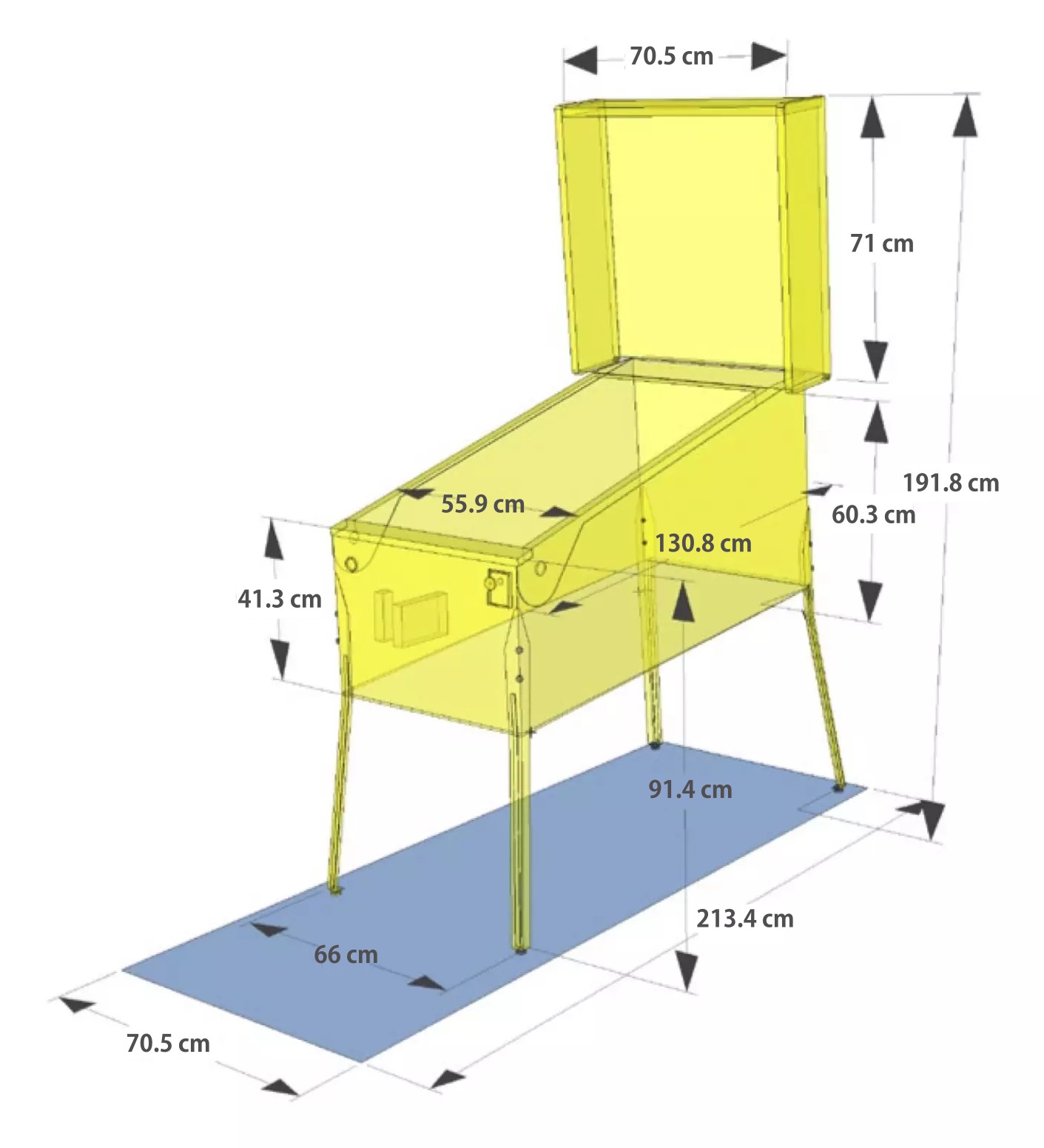 More Information

| | |
| --- | --- |
| Theme | Godzilla |
| System | Free Play |
| Power Supply | 90-250V ~ 50/60Hz |
| Leg Levellers | Yes |
| Min. Dimensions | H 198 x W 70.5 x D 145 cm |
| Max. Dimensions | H 193 x W 70.5 x D 145 cm |
| Min. Room Dimensions | H 203 x W 91 cm x D 214 cm |
| Weight | 96 kg |
| Packing Dimensions | H 144 x W 79 x D 79 cm |
| Packing Weight | 105 kg |
Warranty
Stern Pinball Inc ('SELLER') warrants only to the initial purchaser of its products that the items listed below are free from defects in material and workmanship under normal use and service for the warranty period specified:
Printed circuit boards (game logic): 2 months
Dot Matrix / LCD Display: 9 months
Visit this page for more information on Stern Pinball Warranty